Amethyst purple quartz for interior design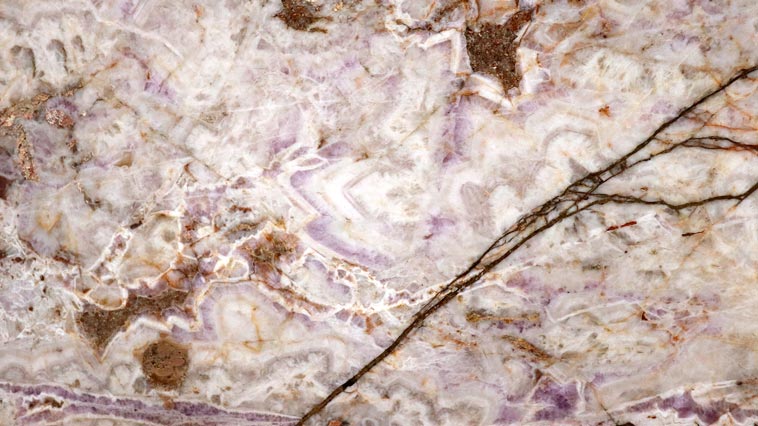 Amethyst is the purple quartz used as a gem in jewelry, as crystal in crystal therapy and as jewelry in the creation of lucky charms.

From today with this rare purple stone you can create elite interiors. Since nature has given us a precious stone set in the rock from which we can obtain a limited quantity of blocks and slabs for the creation of tables for luxury living rooms, surfaces of operating surfaces of rare beauty and backlit reception counters. It is our purple quartz that comes from an Amethyst Chevron geoid in Brazil.
We are proud to present this rare semiprecious purple quartz. Rare not only for its type, but also for its quantity. In fact, it is not enough to cover large surfaces. But it can represent a unique piece of furniture, hardly replicable in other pieces.
Origins of Amethyst and our purple quartz
In our deposits in South America we found a geoid trapped in basalt, a huge "cave" containing purple Amethyst Chevron prisms embedded in the white stone. This is an extraordinary discovery of extreme beauty. Compared to the small igneous rocks we are used to seeing, in this case it is a large space from which we were able to obtain a small number of blocks from which to cut unique slabs.

The Amethyst was formed inside this geoid, probably born from a gas bubble shaped by the very intense flow of magma. The groupings of crystals that developed on the rock walls are due to the high temperatures of the hydrothermal liquids (between 50° and 850°) and the chemical composition that flooded the cavity.

It is a very rare deposit, unique of its kind. And this our purple quartz is the only one of its kind on the market and suitable for interior design.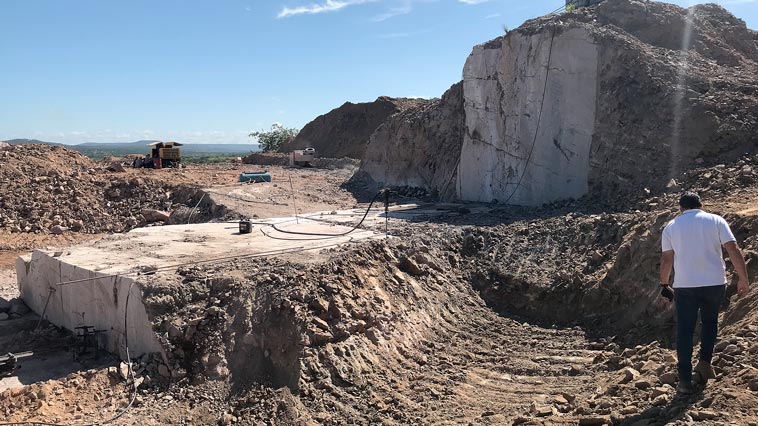 Meanings of Amethyst
The Greek myth tells of the goddess Amethyst transformed into pure white crystal by the goddess Diana to protect her from the wickedness of the beasts sent by Bacchus to strike the first unfortunate young woman.
Understanding the absurdity of his gesture, Bacchus burst into a disconsolate cry and, seized with despair, poured the tastiest nectar left in his cup over the stone. The purple color of the wine dyed the crystal and turned it into the Amethyst we know.
Thanks to the myth of Amethyst, the Romans covered the inside of their chalices with this mineral to keep away bad thoughts, leaving room for positive energy.

In crystal therapy it is used to restore psychophysical well-being because it gives balance to the soul and peace to the body. Wearing Amethyst crystals helps to keep control of emotions when making important choices and lowers stress levels.

On a chromatic level the Amethyst works on the nervous system, i.e. intervenes in case of fatigue migraine. In addition, he plays the role of dream chaser by keeping negative thoughts away and thus fighting insomnia.

Being the sum of red and blue is the symbol of stability and sincerity in love.
Use of Amethyst
The greatest application of this quartz is in jewellery. The Egyptian pharaohs already used it to create their precious jewellery as a demonstration of their sovereignty and power.
As natural quartz, it is a very hard and resistant stone, so much so that it can be used on jewellery even for everyday use, such as rings and bracelets.
Amethyst stone is also used as a talisman for good luck. Its strength is used to find longevity, prosperity and lasting bonds.
The novelty that we are presenting at Galvani Trading in Italy for the first time is the possibility to use the Amethyst stone also in interior design.
Never before has a geoid enclosed in stone been discovered, so large that it can be used to make blocks for processing in the stone industry.
We have freed this wonder of nature and finally, thanks to our group, it is available on the market to be included in your exclusive interior design projects.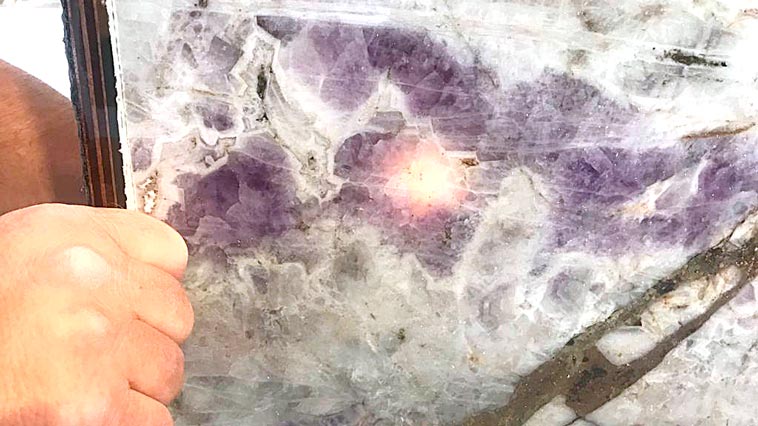 A new application of Amethyst quartz: the semiprecious purple quartz for interior decoration.
Ideas for kitchen, bathroom and living area
Ideas for kitchen, bathroom and living area
Our semiprecious purple quartz is a natural quartz extracted directly from the Brazilian subsoil. It is therefore a very resistant and compact material that lasts over time and does not change due to frequent use.

Despite the presence of Amethyst crystals, it is an easy material to keep clean because it has no holes. Everything remains on the surface: food fats, liquids, dust and odours. These characteristics give it a high resistance to bacteria and mould settlement, making it an ideal solution for kitchen tops, bathroom tops, tables and coffee tables for the living room and relaxation area.
Ideas for the hotellerie sector
We recommend Violet Quartz for the tourist reception sector, especially for luxury facilities, because it is a unique and exclusive material.
The light also expands its beauty and attracts the demanding tourist. In fact, inside it there are transparent crystals that allow the backlighting. This means that with the use of artificial lights aimed at the back of a slab of Amethyst Chevron can be obtained natural surfaces that shine. The applications are different depending on the context in which it is inserted, such as the reception desk at the entrance of a boutique hotel, the cocktail bar station of an elegant and refined place, rather than an original wall of water in the winter garden of a sumptuous villa.
Ideas for the restaurant sector
The purple color usually reminds one thing in catering: wine. In fact, the "Nectar of the Gods" is always visually represented with the purple color of the grapes.

Studies on the psychology of colors report that purple is the color of refinement and prestige and it is for this reason that our semiprecious is suitable for the furnishing of wine shops, cellars, wine shops or places dedicated to wine tasting and presentation.

If, instead of the traditional wood, quartz was used as a material for the wine tasting table, don't you think it would surprise and leave everyone speechless? It is still the fruit of the earth.
Ideas for the office
The use of the colour purple in institutional places such as offices and congress centres helps to keep concentration high as it is a colour that frees thoughts and facilitates learning. It also gives the location a distinct and professional tone.

The most suitable applications in these environments are for reception counters and meeting tables. It is a natural stone that hides within it a unique thousand-year-old history and lends itself to man as a support for his working mission.
Features of our semiprecious purple quartz material for use in interior design
Very few pieces
The availability of Amethyst Chevron for furniture and interior design is very limited. The quantity of slabs for processing is exclusive to a few prestigious projects.

Its discovery is an exception. Its transformation into a furnishing object is a precious rarity.

The room in which it will fit will acquire an extraordinary and unique tone that no one else on earth can replicate in a natural way.
Unique colours
It is a purple quartz due to the rare presence of Amethyst in it. Its uniqueness is given by the purple crystals and it is right to name it after it, because it is its peculiarity.

The predominant colour, however, is the white circumscribed in the centre of the block by the brown of the stone. The purple Amethyst is set like a jewel within this complexity of elements and stands out in all its beauty and uniqueness.
Presence of crystals
It is a material composed of many prisms of white crystals and Amethyst Chevron crystals held together by the stone that preserved them. It is a geometric composition obtained naturally from the sedimentation of magma and minerals. Its uniqueness, rarity and extreme beauty make it a quartz out of the ordinary, very sophisticated, almost difficult to describe in words.
Backlit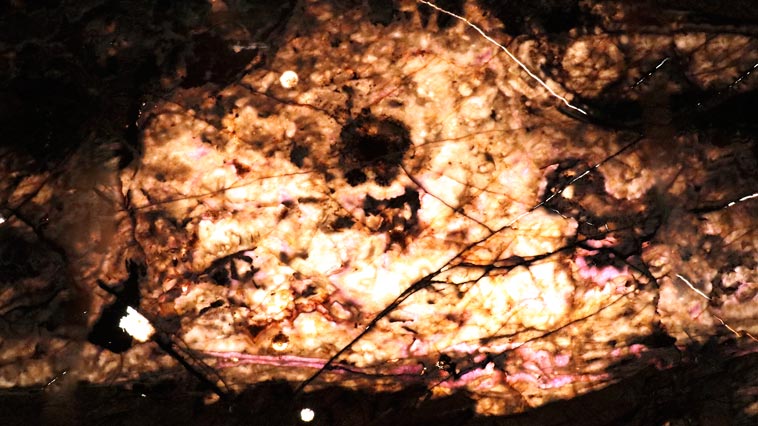 Thanks to the studies of Lighting Design, with this purple quartz you can obtain inimitable scenographies. It is as if the earth, after having kept it in the dark for millennia, now recommends us to do everything possible to expose it to the world, to make the eyes of men and women in search of enchantment shine.
Resistant
It is a natural quartz, one of the most resistant materials in the world. It does not scratch, scratch or break easily. Despite its extraordinary beauty, it is a material to live with. It is a material of everyday life. It is to be admired every day, but at the same time it is made to be used.
Hygienic and antibacterial
It is a compact material, i.e. it has no holes. Therefore, no liquids, odours or food fats penetrate it.
It is also easy to keep clean, as water and neutral detergent are sufficient. Thanks to these technical characteristics, it has a high resistance to bacteria and mould settlement.
It does not suffer from thermal shocks
The direct consequence of its compactness is the ability not to break due to proximity or direct contact with heat sources.

We are proud of our discovery and to share with you so much natural beauty.

Here you can find the technical data sheet.

We are sure that those who will live an environment furnished with our Violet Quartz will breathe peace and harmony.

We are at your disposal to deepen the subject, because the material is new and every furnishing project has its own characteristics that must be followed. Contact us for all the information.