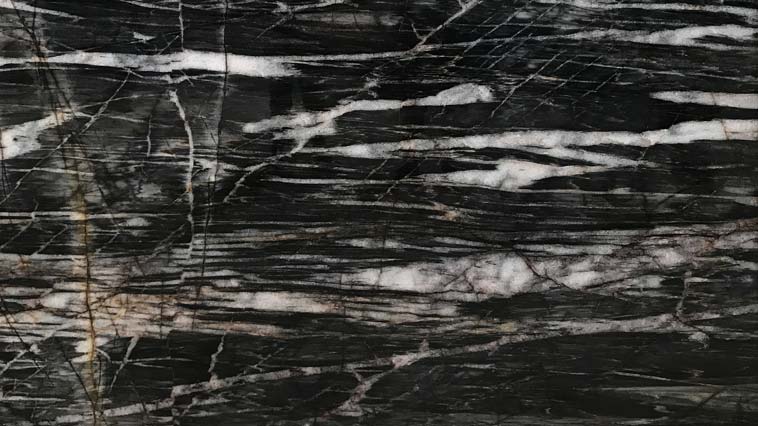 Our group extracts Gray Bayou natural quartz in Brazil, where the most precious quartzites come from. We look at the walls and blocks of this material in the quarry and we seem to see a dark sheet torn, from which comes out the light and bright light of the quartz.

Don't get me wrong. Gray Bayou is a very compact and very resistant material. It has no holes and is a non-porous stone. But its two contrasting "non-colours" give the surrounding space a strong character.
In fact, black and white are not colours. White shows the maximum light present. Black, on the other hand, symbolizes the total absence of light. The presence of light/non light is the key element that will help you to design modern interiors, and it will be useful for us to present this rare and refined semi-precious material.
Characteristics of the Gray Bayou: natural black and white in a modern style
Black and white material
In the furniture are the two "colors" that characterize modernity in any context, both private and public.
They give the environment a refined and elegant character. Their contrast enhances every detail, whether light or dark. If their weights are dosed in a balanced way, they give the rooms strong meanings that can completely change the appearance of a room.
Immortal material
Gray Bayou natural quartz is an immortal material. In the sense that, in addition to never going out of fashion for its neutral colors, those who are using it in furniture and interior design see it always new.
It doesn't get bored, because the natural quartz inside creates three-dimensional games of high aesthetic value.
It is a material always in motion, because seen from different perspectives it acquires different faces.
An eye-catcher material
In interior design, the unique use of black and white often risks not transmitting personality and therefore being too neutral. The ideal solution in this case is to add something that will catch your attention.
The interplay of solids and voids of Gray Bayou natural quartz does just that: it creates wonder and generates an effect of continuous movement.
Compact material
As a natural quartz, Gray Bayou is by nature very hard and resistant. It is a full and compact material.
It does not suffer from thermal shock, i.e. it does not change due to its proximity to heat sources. And for this reason it is the ideal solution for the top kitchen.
Nevertheless, it is a living material, which gives a visual rhythm to the environments, alternating areas of light and shadow.
Hygienic and antibacterial material
Gray Bayou natural quartz is an easy to keep clean material, as only water and neutral liquid detergent are needed to remove household waste. As a compact material, it is very resistant to bacteria and mould as it does not have any holes. In addition, there is no risk of staining, as the compactness of the material means that dirt remains on the surface without affecting the material. A microfibre cloth is all that is needed to dry it.
UV-resistant material
Another characteristic of this material is its multifunctionality. It can also be chosen for outdoor furniture and to coordinate with the interior. For example, it can be used as a table top in the living area, but also as a table surface on the terrace.
It does not lose its lustre and does not change its colour when exposed to atmospheric phenomena.
Optical style material
The optical mood is usually characterized by geometric, symmetrical, white and black elements, created by man specifically to excite, create movement and optical illusions of great impact.
With Gray Bayou quartz slabs you can admire a natural light/dark creation created ad hoc by Mother Earth to be admired and to excite the lover of contrasts.
Minimal style material
Parallel lines that run and separate the two predominant colours. Neutral colors that "stand on everything". Light that acquires value and becomes a furnishing element. These are the characteristics of the Gray Bayou that help the architect to furnish in a minimal style.
There are no disturbing elements, just a fascinating precious surface that tells the story of our subsoil.
Backlit material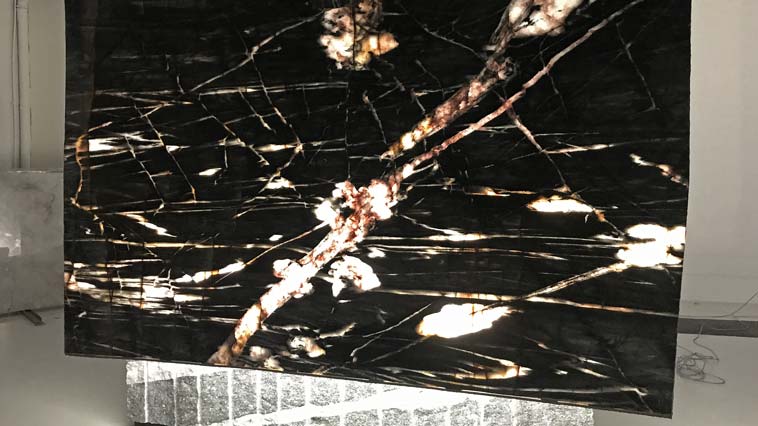 Thanks to its resistance and the presence of natural white quartz, Gray Bayou panels can be backlit. They are the visual expression of two opposing elements that coexist: the maximum presence of light, and its opposite absence of which we spoke at the beginning.
With a carefully designed lighting design you can customize any environment to make it memorable and unique.
Luxurious material
The tangible natural crystals that make up this semi precious are the luxurious elements that can enrich your modern furniture project. In its black and white, the Gray Bayou gives light and personality. Its colours enclose past epochs that now show modern and very prestigious sceneries.
A new dynamism that embellishes refined and very elegant places.
Furnishing the interiors in a modern style with Gray Bayou natural quartz
We have 4 ideas in which Gray Bayou would be able to express the essence of modernism:
For the kitchen, living room and bathroom
Gray Bayou natural quartz is an excellent solution for those looking for black quartz for their kitchen or bathroom tops. The physical and mechanical characteristics of this dark stone give high performance and high functionality both for the activities that take place while cooking and for the daily actions that are repeated on the surface of the bathroom.
Other ideas for modern home furnishings in Gray Bayou can be: large but essential living room tables, minimal but expressive design bookcases and cantilevered stairs with suspended steps that furnish lightly. The skill of the interior designer will then match the contrasting white furniture.
In this article we have deepened all the advantages that you have if you choose a kitchen top in natural quartz.
For the office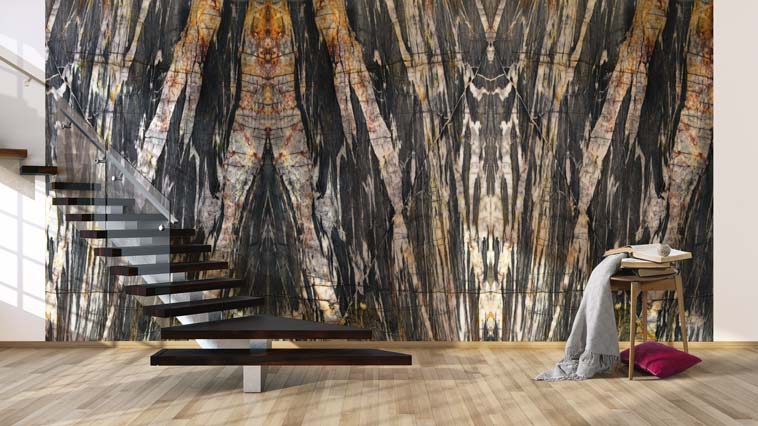 A semi-precious material like Gray Bayou responds to functional needs and evokes a clean, clear and very refined space.
Imagine a large black and white natural quartz operating table in the centre of the meeting room.
Imagine a wall with open patch slabs of an open space office of rare beauty overlooking the city or a winter garden.
Imagine the reception of a conference centre with a backlit counter that tells the story of the mineral spectacle that gave us the land.
These are just a few examples and ideas of modern office decor.
For hotels, restaurants and bars
A public place in designing its interiors has an aesthetic and communicative responsibility towards the whole world: wandering people and travellers from all over the world. This need is met by the use of two modern and iconic "non colours" which, every culture from north to south, from east to west, are the symbol of contrast and transformation: black and white.
The semi-precious Gray Bayou, besides being a clear declaration of the metamorphosis of the land, represents a way to keep everyone in agreement. It can be used to decorate the walls of an elegant and refined restaurant. Or as a backlit counter in an evening bar. But also as a design element inside a fountain in the lobby of a luxury hotel.
For showroom
The designer who has the task of designing a temporary or permanent exhibition space always has two objectives: the first is to capture the attention in order to make visitors live an active and positive experience; the second is to arrange the light sources precisely.
Gray Bayou natural quartz, thanks to its peculiarities, helps to achieve both goals. Its neutral style makes the products or works on display appear as protagonists. It enhances the maximum presence of light in contrast with the total absence of light contained in it.
Furnishing the exterior in a modern style with Gray Bayou natural quartz
For garden furniture

Gray Bayou natural quartz can also be used to furnish the exterior. It is resistant to low and high temperatures. It does not change its colour when exposed to the sun. Does not wear out if affected by seasonal weathering. The important thing is to pay attention to the type of work you do.
The best contexts in which Gray Bayou collaborates in the furnishing of open spaces are: gardens with tables, poufs and benches, relaxation areas with outdoor hot water pools, smoking area, outdoor showers in boutique hotels, tops and tables in outdoor kitchens. But also coverings of refined entrances, or special showrooms. Design fountains and water walls with surprising effects.
Finally, we recommend the Gray Bayou to furnish in a modern style because its "non-colours" are the clear expression of a functional and essential aesthetic project. Look at his product sheet.
In addition, we encourage design architects to ask us for more information, as this stone is a material that maintains its characteristics over time. It is therefore the ideal solution for projects that have the ambition to last a long time and leave their mark.